Now at Costco: Fresh, flavorful gluten-free pasta you crave.
Our famous four-cheese tortelloni and cauliflower linguini, now available in two-packs at select Costco clubs for a limited time.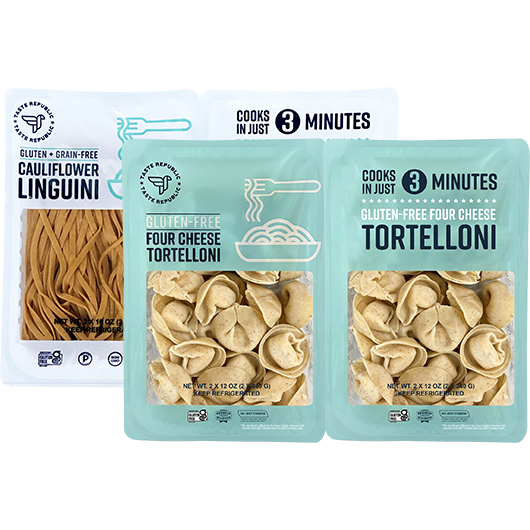 Two pastas. All the flavor.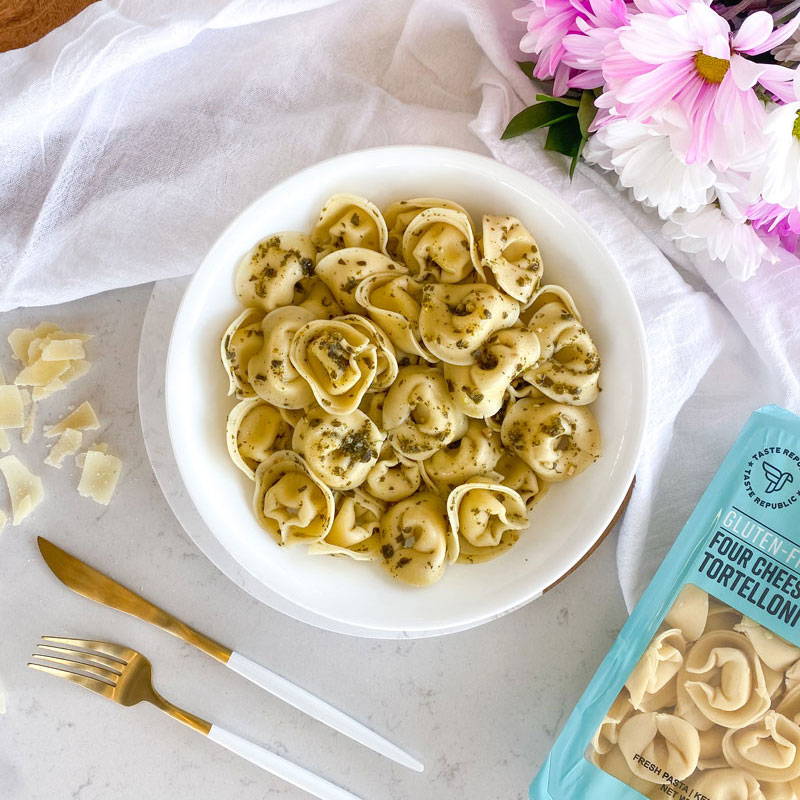 Cooks to a delicious al dente in only 2-3 minutes
12 grams of protein per serving
Made with real Wisconsin mozzarella, asiago, parmesan and ricotta cheeses
Certified gluten-free
Each two-pack contains 24 ounces of tortelloni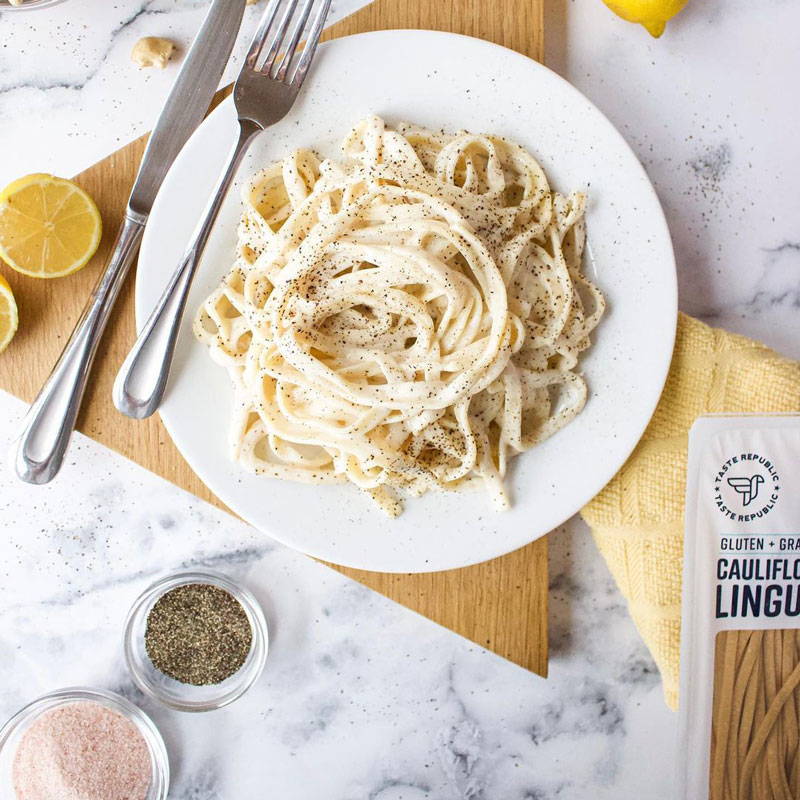 2 ½ servings of vegetables per 3-ounce serving
Cooks perfectly al dente in only 2-3 minutes
Gluten-free, grain-free, certified paleo friendly and low on the glycemic index
Cauliflower provides added nutrients like fiber, antioxidants and vitamin C
Each two-pack contains 32 ounces of linguini
Best sellers thanks to big flavor.
See what people are saying:
Recipes our chefs love.
Easy, tasty ways to enjoy our pastas.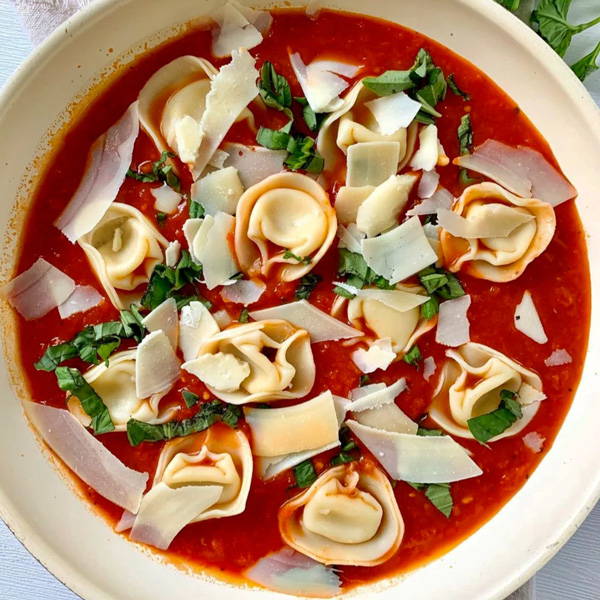 4 Ingredient Gluten-Free Tortelloni Marinara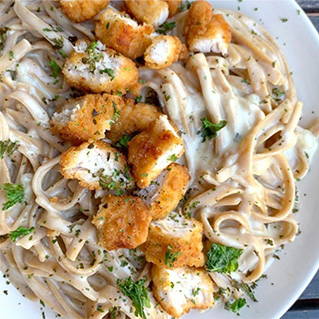 Lightened Up Gluten-Free Alfredo Sauce with Cauliflower Linguini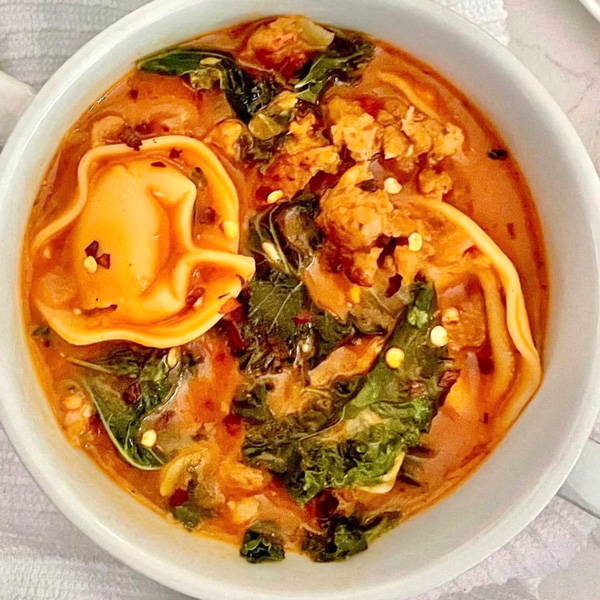 Gluten-Free Creamy Tortelloni Soup
Are these products certified gluten-free?
Yes. All Taste Republic products are manufactured in a Certified Gluten-Free facility on dedicated gluten-free equipment. Each pasta is certified gluten-free by the Gluten-Free Certification Organization (GFCO).
Where can I find this in-store at Costco?
Both Four-Cheese Tortelloni and Cauliflower Linguini are available in the refrigerated section.
How do I get some before it's gone?
Use our COSTCO STORE LOCATOR to find the stores carrying Taste Republic gluten-free pasta. Please note that this is for a limited time – so be sure and get your fresh pasta before it sells out!
What if my local Costco doesn't carry it?
If your local Costco doesn't carry Taste Republic yet, you can help spread the word. Request in store or use their online feedback form. For Four Cheese Tortelloni,reference product #1687250. For Cauliflower Linguini, reference product #1380521.
Taste Republic can be found at numerous other retailers nationwide, so if you can't find it at your local Costco, check out our store locator to find a store near you that carries Taste Republic.
You can also have Taste Republic delivered right to your door. Buy 2 6-packs and get free shipping.
Will these pastas be available at other Costcos?
Over the next few months, you can find these products at Costco clubs throughout the Midwest, South, Southeast and Bay Area. Check our online store locator to see if a Costco near you has our Cauliflower Linguini or Four Cheese Tortelloni.
Absolutely! For the best experience, use your frozen pasta within 1 year. You can cook the pasta directly from the freezer. Just place the frozen pasta directly into boiling water and stir until the pasta is separated. It will typically take an extra minute to cook from frozen.
Why is there so much sodium in your pasta?

We use salt in our fresh pasta to help ensure quality, inhibit microbial growth and prolong the shelf life so it remains fresh, safe and delicious for long as possible. By utilizing salt, we are able to avoid using less common ingredients with names you likely haven't encountered before.
The good news is that for our unfilled pasta, ~60% of the sodium transfers into the water during cooking leaving only 40% in the finished pasta. For our filled pasta, ~30% transfers into the water during cooking. Due to this phenomenon, it is not necessary to salt the water prior to cooking as is typically recommended when cooking pasta.
Why does your tortelloni have brown "specks" in them now?
Historically, we've used golden flaxseed in our filled pastas, such as ravioli and tortelloni. But like so many, we've been hit by a global supply chain shortage - making golden flaxseed unavailable. For this reason, we've switched to using brown flaxseed for the foreseeable future.
The brown flaxseed is identical to its golden relative - other than in color. Our ravioli and tortelloni remain 100% certified gluten-free. Taste and texture remain unchanged, and we promise our pasta is always guaranteed fresh. Other than a slight change in its appearance, the pastas are identical to the one you know and crave.
To see the visual difference, check out this video.
Is Cauliflower Linguini low-carb?
Taste Republic Cauliflower Linguini is comparable to traditional pasta, with 41g of net carbohydrates per serving. Our Cauliflower Linguini has the added bonus of 2 ½ servings of vegetables and 10g protein per serving.
Still not sure?
We guarantee it's great.

Try any of our gluten-free pastas and if you don't agree that the taste and texture lives up to your expectations, let us know. We'll refund your pasta. No questions asked.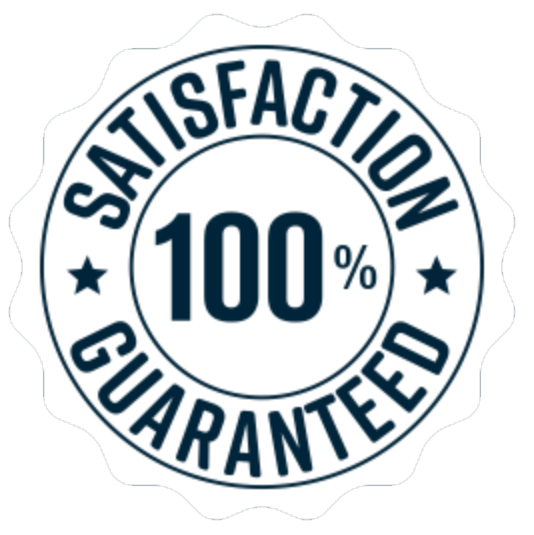 Two classics. Now at Costco for a limited time.
Grab your two-pack of four-cheese tortelloni or cauliflower linguini at a Costco club near you.