Jake Miller | email pr@tasterepublicglutenfree.com | phone 608-571-4018
Media Gallery
SFA Announces 2021
sofi Award Winners!

Blue Sage Honey Shrub, Brie Cheese Flavored with Truffles, and Irish Whiskey & Honey Mustard are among the Specialty Food Association's 2021 sofi New Product Award winners.
These and 127 other specialty food products from product-qualified members of the Specialty Food Association, have been named Gold, Silver or New Product Award winners in 49 food categories.
The full list of winners can be found here.
The sofi Awards opened March 1 and resulted in nearly 1,500 products from around the world pouring into SFA's partner for the awards, the Food Innovation Center at Rutgers University. Through anonymous tastings, FIC experts evaluated products ranging from Cocktail Mixes & Mocktails to Yogurt & Kefir. A detailed process assessed entrants for their flavor, appearance, texture, aroma, ingredient quality, and innovation.
"The sofi Awards have been recognizing the best of the best in the specialty food industry since 1972," said Laura Lozada, vice president of membership for the SFA. "We are so proud of our members and their perseverance during this difficult time. They continue to innovate and grow and are the foundation of our industry. The SFA is honored to recognize their creativity and the quality of their products."
The sofi Product of the Year Award will be presented to two different winners, one for New Product of the Year, and one for Product of the Year. Both will be announced Tuesday, May 11, at 10:45 am during Specialty Food LIVE!™ May, the third digital marketplace event held by the SFA.  
Taste Republic's
Cauliflower Gnocchi is
a 2021 FABI Winner!

The FABI Awards program recognizing food and beverage products that are breaking new ground in taste, creativity, packaging, and profit potential. These industry-altering products will shape the future of food and beverage with flavorful and marketable items designed to delight diners and drive sales for years to come.
NOSH Category Closeup Interview with Taste Republic Co-Founder, Peter Robertson

Check out this video to learn more about trending innovations in the pasta marketplace along with the history of how Taste Republic became the fastest growing fresh gluten-free pasta brand in this NOSH Category Closeup interview with co-founder, Peter Robertson.
---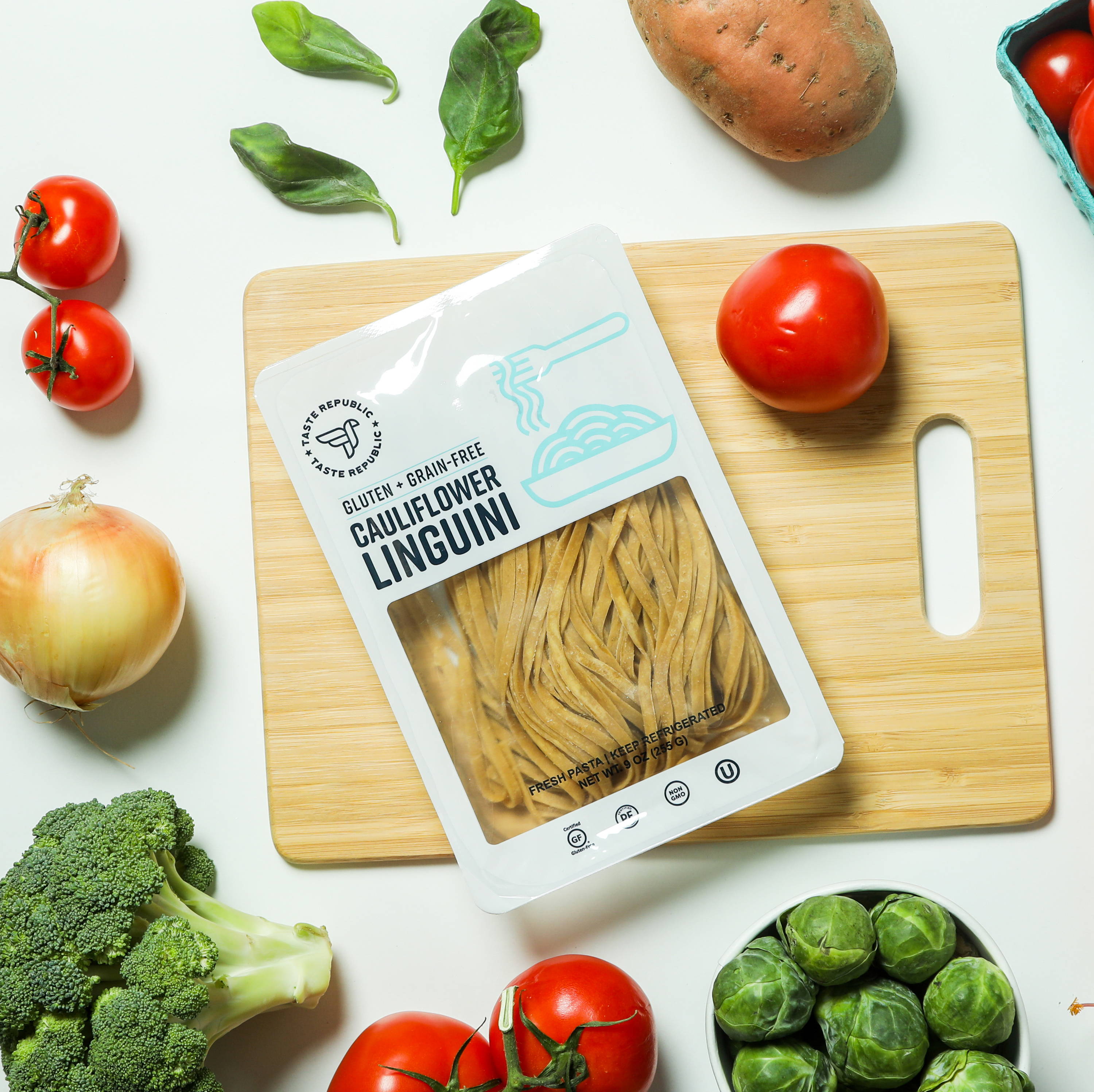 Taste Republic Unveils Fresh
New Look and Packaging
With the vision that food with clean, simple ingredients deserves a clean, simple design, Taste Republic recently launched fresh brand identity and that puts the focus on what they do best: Gluten-Free and Grain-Free Pasta. The new look reflects Taste Republic's mission to revolutionize gluten-free food as part of their efforts to help build a more inclusive and sustainable economy.
"We built this company on the belief that everyone deserves good food, regardless of food allergies or lifestyle, and we wanted to ensure our branding reflected that," said Peter Robertson, Founder and Chief Creative Officer of both Taste Republic and RP's Pasta. "We tested a variety of new packaging versus our old look, and this was a resounding winner amongst consumers."
The clean, simple logo now features a bird, representing the company's mission to liberate all from a taste and texture tradeoff when eating gluten-free food. A nod to Taste Republic's commitment to transparency as a Certified B Corp, the new streamlined package offers more clear, simplified labelling so consumers can quickly identify the pastas that suit their dietary needs, values, and lifestyle.
Taste Republic Launches Gluten-Free Cauliflower Pasta, a 2019 NEXTY Awards Finalist
Taste Republic, creator of market-leading gluten-free and grain-free pasta, today introduced its Taste Republic Cauliflower Linguini, a paleo-certified pasta crafted to deliver on both taste and texture.
New gluten-free pasta brand, Taste Republic, spins off from RP's Pasta Company
Taste Republic, a revolutionary new gluten-free brand, is set to land on supermarket shelves in early spring. Born in the kitchen of RP's Pasta Company, Taste Republic will first focus exclusively on gluten-free pasta varieties and include innovative additions such
as the NEXTY Awards finalist Taste Republic Plantain Linguini.